From the Open Budgets Blog
IBP research has shown that governments have a variety of motives for disclosing fiscal information. While many of these drivers have little to do with the fight against corruption, access to budget information does make it possible for civil society to spot and denounce cases of government mismanagement and graft. Citing recent high-profile examples from South Africa and Brazil, IBP's Paolo De Renzio examines the link between transparency and corruption.
---
Social audits are a powerful tool. But knowing how and when to use them, and understanding their underlying principles, are key to their effectiveness. IBP's Albert van Zyl shares highlights from a recent meeting that brought together some of South Africa's leading experts in social audits.
---
For budgets to be truly open, governments must not only provide information but also meaningful opportunities for citizens and civil society to engage in budget processes. As 51 countries prepare to draft new national action plans for the Open Government Partnership, IBP's David Robins looks at what commitments are needed to ensure progress on budget transparency and participation.
New IBP Publications
Governments are increasingly using the digital space as the main avenue for disseminating fiscal information. Despite the ubiquity of budget websites, there have been relatively few attempts to systematically examine government practices in disclosing budget information on the Internet. Fundar, a Mexican Civil Society Organization, teamed up with IBP to assess how well governments are doing at disclosing budget information online. The research looks at websites and portals for 80 countries included in the Open Budget Survey 2015, using four dimensions (scope, accessibility, reliability, and feedback) to measure their effectiveness.
---
This Budget Brief compliments Fundar's examination of 80 government budget websites and portals and proposes a set of policy recommendations for improving how governments are disclosing budget information online.
---
In much of the West Bank, there are rampant problems in the funding and delivery of government services and infrastructure projects. This case study follows the efforts of Palestine's Teacher Creativity Centre (TCC) to mobilize students to conduct social audits of public services, demonstrating the challenges and benefits of involving students in strategies for social accountability.
Further Reading From the Field
In a piece for U.S. News & World Report, Vivek Ramkumar and Diego de la Mora explain the progress Mexican officials have made in implementing transparent budget practices, as well as the challenges ahead.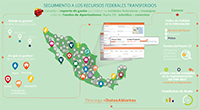 Job Announcements
To see current opportunities with the International Budget Partnership, visit our Job Announcements page »